For the occasion of the 50th anniversary of D-Day, René Garrec, President of the Regional Council of Lower Normandy, reflects upon the significance of D-Day in a letter to his grandson. His words echo the sentiments of many in Normandy, including my father-in-law who endured 5 years of captivity in Poland and in Germany as a POW, and my mother-in-law who nearly lost her life when her home was destroyed on June 6, 1944 during the Allied bombing of Caen. I have translated Mr. Garrec's letter with his permission. I took the photographs at a D-Day commemoration at Arromanches.
---
It's for you, my grandson, who will soon be 7 years old, that I have chosen to write these few lines, because maybe only children are really capable of understanding what is truly important.
I watch you play in the courtyard of your house, and I say to myself that you are lucky to live the jubilant years of childhood not knowing what is an enemy, what is fear, what is death.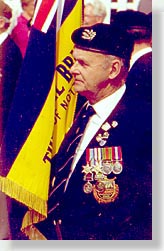 I remember being about your age, when German soldiers had taken over the house of your great-grandparents, and vaguely feeling that we had all been stricken by a terrible misfortune.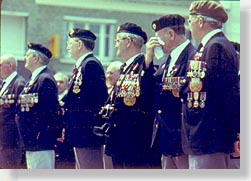 I watch you playing with your brothers, and the anguish comes back to me, as one by one, the war took several members of my family. You do not know yet, thank God, that even after fifty years, you can still miss someone very dear. May you never know.
If you ask me from all of your seven years, to explain all that, I would undoubtedly, find it difficult, because you have not yet learned of the bloody convulsions of history. And to tell it simply, is not an easy task. I think I would take you to see the film "The Longest Day" because it is a wonderful movie which inspired generations of little boys: it is full of heroes. I think I would take you also to visit the American cemetery at Omaha Beach because it is the most moving place on earth: it is full of fallen heroes. Then you might understand that D-Day should remind us of two things: the gratitude that we owe to courage, and the respect that liberty, paid for at such a terrible price, commands.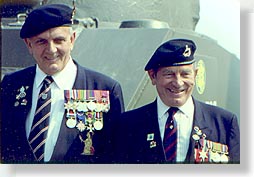 The veterans who will return this June, are now 70 years old or more: you might look at them as if they belong to another time. You should know, however, that thanks to them, you are living in a free country. They came from far away, some, very far, and they were so very young, to fight an evil regime, which had enslaved all of Europe and murdered thousands of children like you, whose only crime was to be born of parents whose religion was different.
Many Frenchmen tried to protect them, and some paid a high price for it. Others did nothing, out of fear, out of indifference, or out of cowardice. You will learn quickly, Adrien, that men are not very courageous. Some even took part in this horrible deed. I hope that you will never know to what depths hatred can plunge humanity.
These grandfathers who will come visit us in June, perhaps did not know why they were sent to fight so far from their own country: It is not easy when one is only twenty, to find oneself, a weapon in hand, staring war in the face. It is an age when one dreams of things more joyful.
If they are so proud today, it's because they know that their war was just. You will learn when you are older, that some wars are more just than others. The soldiers who landed in Normandy on D-Day are, in the eyes of the whole world, true heroes.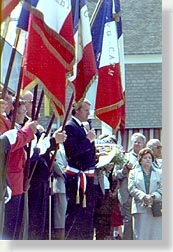 In all our towns and villages, we will celebrate their return and I hope that all the children your age will bid them welcome. I hope their parents will try to explain what these men sacrificed for us, so that they will know that they fought for a worthy cause.
They will also know that their fallen comrades who are buried on our shores, did not die in vain. Their names are William, Charles, John or Michael, and they repose under a Latin cross or a star of David. Thousands more of them were never found and hundreds were never identified. We must remember them all, Adrien, perhaps, most of all, the latter whose names were lost and whose families were never able to recover their remains. A writer once said that the tomb of heroes is the heart of the living. Surely, those interred here will rest more peacefully if little boys like you think of them from time to time.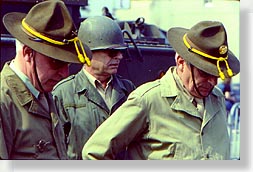 These are very sober thoughts and you are perhaps beginning to find your grandfather's sermon a little too long. I wrote it for you so that you will know how men live and, sometimes, how they die.
Perhaps one day, God forbid, you will be called upon to fight so that your country, your family, and those whom you love, may live free. Undoubtedly, there will be those who will tell you that it is crazy to die for an idea. They used to say, a few years ago, "better red than dead". Since then, we have counted the victims, and their voices have fallen silent.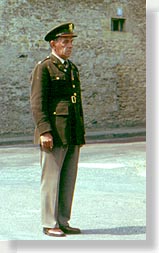 So don't listen to them. There are some ideas that are worth dying for. And there is one that you should hold most dear: It is freedom and the respect of others. I, too, went to war, in my time. I did not like it but I felt that I had done my duty because I did not leave it to another to do.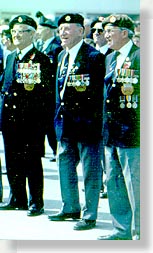 I hope that you will be a man of peace because I am horrified by violence. But take care never to be a pacifist because tyrants of all stripes have no heart and no soul. And, in this respect, he who tries to do too much good, ends up being a fool.
The old soldiers who are returning to us will be filled with emotion and they will have many wonderful stories to tell. Listen to them carefully. Ignore those who might scoff at their memories or their medals. These grandfathers have in their hearts a story that haunts them and which is more valiant than the reckless adventures of comic book heroes. They are truly brave men, and they are few.
It is thanks to them that today you play peacefully in your backyard, far from the thunder of exploding bombs, far from the horrors of war.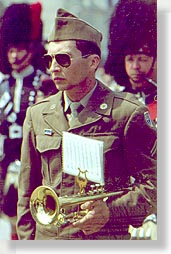 There are other areas in the world where children your age have learned too soon the meaning of hurt, fear, and solitude, and there are not many courageous men today who are willing to go to their aid. It is proof that the lessons of history must always be relearned and it is proof also that many Europeans have become indifferent to the world's tragedies. Perhaps they'll reflect one day on the words of Hemingway: "Ask not for whom the bell tolls, it tolls for thee". In June, Adrien, I will take you to see our old friends: I am sure that you will like them. And with all the citizens of Normandy, we will tell them "Thank you and welcome in Normandy".






---

© Copyright 1994-2001 Vivian E. Corbin. All rights reserved. All photographs contained herein are the work and intellectual property of the author and may not be used or reproduced in whole or in part in any form without the author's express written permission.